The Best Fiction Books
along with the author's memoir featuring non-fiction memories & adventures to delight any reader
Faced with eviction, living on union strike pay, our time for making a decision was running out. Where could we go to live with our five small sons? We had few options. The scariest possibility was also the one that fit best with our tiny income. But could we really make such a difficult move? To transport our family, and our mobile home onto a five-acre parcel of rural, undeveloped land? No electricity, no running water, with winter fast approaching. It sounded a little crazy…
Ellen is running away.
Heartbroken and carrying the ever growing shame of her foolishness in trusting a man, she rents a remote cabin in the woods.
All she needs to do is survive until the baby is born. Once that happens she'll be free to start a new job and a new life. The last thing she expected was to be pulling out her gun on a strange man walking out of the woods…
After a fire destroys their home when she was a girl, Sarah's family rebuilds their lives, yet the echoes of the fire's damage remain. Sarah learned to turn inward, and keep her curious mind to herself, asking God all the questions that her own father used to delight in. But the fire silenced her father, and spread the stillness to the rest of them. Yet Sarah longs to express herself, to find answers to all her questions. A new, young pastor arrives, and captivates her heart. The prospect of a challenging and unexpected life…
Kay is a widow who has moved to Oregon in the 1920's to live with her brother and his wife. She sews shirts while he makes hats. Intrigued by the rough-hewn men who come in and out of their shop, she wonders if love would ever come her way a second time. Aaron intrigues Kay with his quiet demeanor, especially after she finds him drunk. Leaving her brother to care for him, she often wonders what led the man to that point. While challenging herself to try new…
There's something cooking outside the kitchen…. They've worked together for two years, but that's all they have in common. Like oil and water, they just don't mix. Julie thinks he's a shallow flirt, Mark thinks she's a cold fish. Despite their mutual dislike, they've carved out a civil work relationship at the restaurant. But after each of their inner worlds suffer a jolt; the careful, polite kitchen routine becomes a stew of conflicting emotions. Things are about to get interesting…
Lilli Clarke. They call her the marked girl. Beginning at her left shoulder, a pink birthmark tracks up her throat just past her jaw, like a finger pointing to her brain. Abandoned by her family, she is ostracized by everyone but her grandmother and cousin Bert, Six years of dust storms have left sixteen-year-old Lilli close to death with dust pneumonia. Now she must leave the only real home she's ever had, or risk death when the next storm hits….
In the unsettled days of 1972, music is the steady focus of Ruth's life and the high point of each college day. But when her happiness derails in the span of a few seconds time, Ruth is left to piece together a life that becomes fraught with confusion and emotional turmoil.
Paul has worked hard to school his stormy personality into a career that satisfies his love of music and a desire to teach…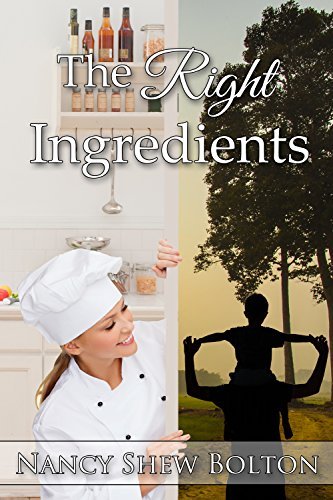 Ann's hectic work responsibilities demand all her time and effort, and what was once a useful, satisfactory life has become a burden to carry.
Her bakery partner Susan has lost none of her enthusiasm for their business, and Ann can't understand her exuberance, or her friend's Christian faith. So she trudges along, hiding her dissatisfaction from Susan, resigned to a life of work, sleep and problems…
About The Author
Caring and brilliant storytelling from the wooded hills of upstate New York
Nancy Shew Bolton is a wife of 43 years, mother of five grown sons, and grandmother to a boy and girl. Ever since she learned to write, she would jot down her thoughts and impressions in little snippets of inspiration in the form of poetry, song lyrics, or short essays. About six years ago, she decided to try her hand at writing a full-length book. She's since written five works of fiction, two non-fiction, and is working on an idea for a children's book, as well as more fiction manuscripts.
Writing a full-length work is much more challenging than she thought, and she has received so much valuable assistance from other writers, especially from the ACFW critique groups. Her husband has been supportive of her long hours spent at the keyboard. Many thanks to her beloved Johnny! And now she's under contract with Prism Book Group! What a journey!

Nancy loves to write character-driven stories about relationships of love and faith since she is fascinated by the complexities within this emotional terrain. She thanks God and His Son for her life, her loved ones and the spark of creativity inside every person. She believes each person is a unique creation, with their own special voice and place in this amazing universe. God's handiwork amazes her every day!